Volunteering: A Scoring Success
One of our tenants set up a Personal Success Plan with his Community Potential Specialist in September 2021 with the goal of trying to maintain his physical and mental wellbeing. He'd been finding it difficult to do this during the pandemic and was missing some social interactions and structure in his life.
Here at Twenty11, we have good links with local partners and set up a meeting with Age UK Buckinghamshire to discuss what opportunities could match his interests, and soon after our tenant attended his first introductory session.
'He started as volunteer with our walking football group, which was a joint project between Age UK Bucks, Age UK and the FA' said Ros Shorrocks from Age UK Buckinghamshire, 'His role was to support and encourage participants and to take part in a social session after the football each Thursday, taking up two hours of his time. As we came out of lockdown, many people struggled to socialise and having football in the weekly calendar was a great help to them. The social time allowed people to form new friendships and rediscover their conversation skills and he played a role in this as well as benefitting from it himself.'
When the tenant's Community Potential Specialist Nick checked in with him in November he said 'Having a personal success plan has helped me! The volunteering just seems to be becoming a more important part of my life! I like to be around other people and feel like I am part of the greater whole.'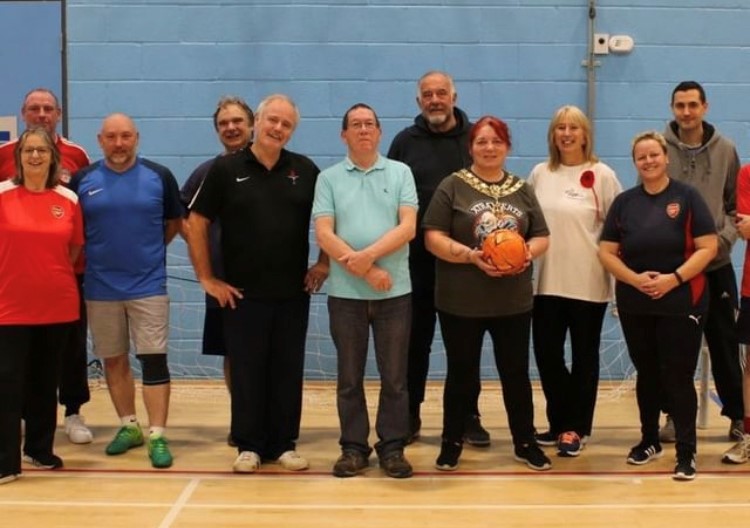 His confidence was growing, displaying a 'can do' attitude and became more willing to step up to new challenges.
Ros said, 'He is kind and patient, a good listener and responds well to requests for help and direction from others, so as this volunteering opportunity was limited in scope I suggested that he might like to also become a volunteer for our wider Befriending service. He was matched with an older person for face to face befriending who he now visits for one hour per week. He has established a good relationship with his client and is respectful of her health condition and anxieties. She has no family of her own and she has really enjoyed having him around. He helps her with minor tasks around the home and is a receptive ear to her chattering. They are both benefitting from the relationship.'
He has also had a great impact in this role and Age UK Buckinghamshire are currently looking at matching him with a second client! Our tenant said 'It's amazing to see and meet other people in their own homes and see how they manage on a daily basis throughout. I would say to someone thinking about becoming a volunteer, go for it!'
'There are lots of opportunities to volunteer with Age UK Buckinghamshire, not just the befriending service' Ros Shorrocks, Age UK. 'We have just launched a new project which promotes gentle physical activity for older people and we're keen to have volunteers who are able to help the older generation understand and participate in the digital world a little better. There are also opportunities in office admin and in giving advice.'
Volunteering helps people to connect, be active, take notice, learn and give to others and these are all conducive to improving wellbeing for us all.
We're so pleased our tenant has seen a difference in himself but also the people he supports in our community. Find out more about Volunteering with Age UK Buckinghamshire.
Nick, his Community Potential Specialist said 'I've been so impressed and inspired by the commitment our tenant has shown to his voluntary work. I remember our first video call when he wasn't quite sure what he wanted to do but he felt like he needed to do something! We explored his skills and interests through discussion, and once linked with Age UK Buckinghamshire he has taken full ownership and hasn't looked back! It really shows that you can gain so much from volunteering and just trying something new. If anyone else would like to get in touch for an informal discussion about what they'd like to achieve this year then don't hesitate to contact us via the portal or email potential@twenty11.co.uk.